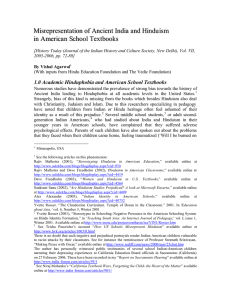 Misrepresentation of Ancient India and Hinduism in American
... 3.0 Types of Errors in California Textbooks When The Hindu Education Foundation (HEF) and The Vedic Foundation (VF) and examined the textbooks proposed for adoption in the current cycle, they identified hundreds of errors of the following types: 3.1 Factual errors: The textbooks were replete with bl ...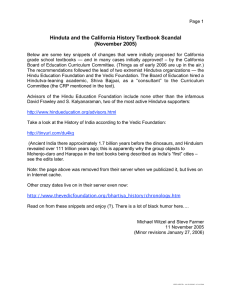 Hinduta and the California History Textbook Scandal (November
... These Aryan people came from the area around the Caspian and the Black seas. […] Eventually some of them crossed the Hindu Kush mountains into India where they slowly spread over the subcontinent." Replace with, "Since the 1800s it was believed that about this same time, tribes of people called Arya ...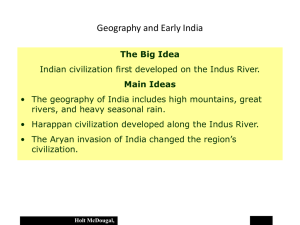 Holt McDougal
... Siddhartha Gautama searched for wisdom in many ways. The teachings of Buddhism deal with finding peace. Buddhism spread far from where it began in India. ...
Indigenous Aryans
In the context of India and Indian politics, Indigenous Aryans refers to the idea that the speakers of Indo-Aryan languages are ""indigenous"" to the Indian subcontinent. It is a politicised theory, which includes arguments against the Indo-Aryan migration theory, and arguments to re-date the Vedas and the presence of the Vedic people in accordance with traditional, Vedic-Puranic datings. The idea of ""Indigenous Aryans"" also implies a migration ""Out of India"" to Europe and east Asia. The mainstream view as accepted by historical linguists is that the Indo-Aryan languages originated outside of India.