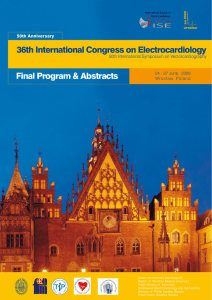 Conference program - International Society of Electrocardiology
... on Electrocardiology joint with the 50th International Symposium on Vectorcardiography which this year takes place in Wroclaw. The city of Wroclaw deserves a name of the cradle of international meetings gathering scientists dealing with various aspects of electrocardiology. During the Congress, we a ...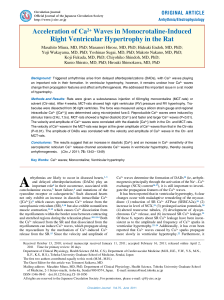 Acceleration of Ca2+ Waves in Monocrotaline - J
... Background:  Triggered arrhythmias arise from delayed afterdepolarizations (DADs), with Ca2+ waves playing an important role in their formation. In ventricular hypertrophy, however, it remains unclear how Ca2+ waves change their propagation features and affect arrhythmogenesis. We addressed this imp ...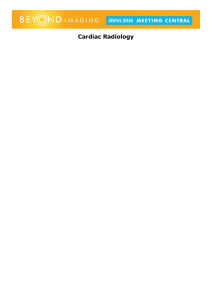 Cardiac Radiology
... Strain-encoding (SENC) MRI gained large popularity as a unique tool for measuring myocardial regional function with high resolution in as short as one heartbeat without breath-hold or contrast injection. The resulting color-coded strain maps and curves provide important markers of subclinical cardia ...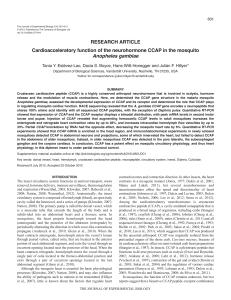 Cardioacceleratory function of the neurohormone CCAP in the
... or black) or 15 adults (24h, 5days or 10days old). Transcript levels of CCAP and CCAPR were measured by real-time quantitative PCR (qPCR) using SYBR Green PCR Master Mix (Applied Biosystems) on an ABI 7300 Real-Time PCR system. RPS7 was used as the loading reference (Coggins et al., 2012), and re ...
Cardiac contractility modulation
Cardiac contractility modulation (CCM) is a treatment for patients with moderate to severe left ventricular systolic heart failure (NYHA class II–IV). The short- and long-term use of this therapy enhances both the strength of ventricular contraction and the heart's pumping capacity. The CCM mechanism is based on stimulation of the cardiac muscle by non-excitatory electrical signals (NES). CCM treatment is delivered by a pacemaker-like device that applies the NES, adjusted to and synchronized with the electrical action in the cardiac cycle.In CCM therapy, electrical stimulation is applied to the cardiac muscle during the absolute refractory period. In this phase of the cardiac cycle, electrical signals cannot trigger new cardiac muscle contractions, hence this type of stimulation is known as a non-excitatory stimulation. However, the electrical CCM signals increase the influx of calcium ions into the cardiac muscle cells (cardiomyocytes). In contrast to other electrical stimulation treatments for heart failure, such as pacemaker therapy or implantable cardioverter defibrillators (ICD), CCM does not affect the cardiac rhythm directly. Rather, the aim is to enhance the heart's natural contraction (the native cardiac contractility) sustainably over long periods of time. Furthermore, unlike most interventions that increase cardiac contractility, CCM is not associated with an unfavorable increase in oxygen demand by the heart (measured in terms of Myocardial Oxygen Consumption or MVO2). This may be explained by the beneficial effect CCM has in improving cardiac efficiency. A meta-analysis in 2014 and an overview of device-based treatment options in heart failure in 2013 concluded that CCM treatment is safe, that it is generally beneficial to patients and that CCM treatment increases the exercise tolerance (ET) and quality of life (QoL) of patients. Furthermore, preliminary long-term survival data shows that CCM is associated with lower long-term mortality in heart failure patients when compared with expected rates among similar patients not treated with CCM.