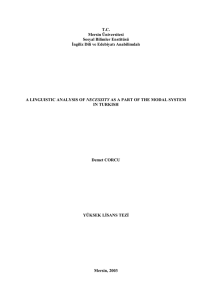 T.C. Mersin Üniversitesi Sosyal Bilimler Enstitüsü İngiliz Dili ve
... situation). Of these features, non-factuality is the common one for both epistemic and deontic modality and is used as basis to many linguistic researches. These two types are also named as root and epistemic modality (Bybee et al. 1994; Papafragou, 1998, 2000; Coates, 1983), since the deontic meani ...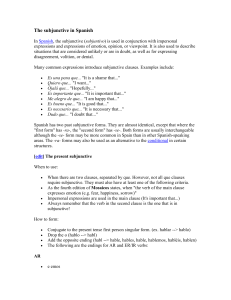 The subjunctive in Spanish
... heard in everyday speech, and is usually reserved for literature, archaic phrases and expressions, and legal documents. Phrases expressing the subjunctive in a future period instead employ the present subjunctive. For example: "I hope that it will rain tomorrow" would simply be "Espero que llueva ma ...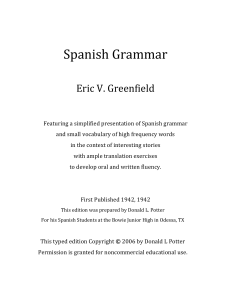 Spanish!Grammar!
... has been, or ever can be, devised, will be subject to harsh criticism, since practically every unit of grammar has it proponents who demand for it a position at the first part of the book. The whole problem consists in putting main things first and in relegating things of lesser importance to the la ...
Tense–aspect–mood
Tense–aspect–mood, commonly abbreviated tam and also called tense–modality–aspect or tma, is the grammatical system of a language that covers the expression of tense (location in time), aspect (fabric of time – a single block of time, continuous flow of time, or repetitive occurrence), and mood or modality (degree of necessity, obligation, probability, ability). In some cases, evidentiality (whether evidence exists for the statement, and if so what kind) may also be included.The term is convenient because it is often difficult to untangle these features of a language. Often any two of tense, aspect, and mood (or all three) may be conveyed by a single grammatical construction, but this system may not be complete in that not all possible combinations may have an available construction. In other cases there may not be clearly delineated categories of tense and mood, or aspect and mood.For instance, many Indo-European languages do not clearly distinguish tense from aspect. In some languages, such as Spanish and Modern Greek, the imperfective aspect is fused with the past tense in a form traditionally called the imperfect. Other languages with distinct past imperfectives include Latin and Persian.In the traditional grammatical description of some languages, including English, many Romance languages, and Greek and Latin, ""tense"" or the equivalent term in that language refers to a set of inflected or periphrastic verb forms that express a combination of tense, aspect, and mood. In Spanish, the simple conditional (Spanish: condicional simple) is classified as one of the simple tenses (Spanish: tiempos simples), but is named for the mood (conditional) that it expresses. In Ancient Greek, the perfect tense (Ancient Greek: χρόνος παρακείμενος khrónos parakeímenos) is a set of forms that express both present tense and perfect aspect (finite forms), or simply perfect aspect (non-finite forms).Not all languages conflate tense, aspect, and mood, however; close to a theoretically ideal distinction, with separate grammatical markers for tense, aspect, and mood, is made in some analytic languages such as creole languages.