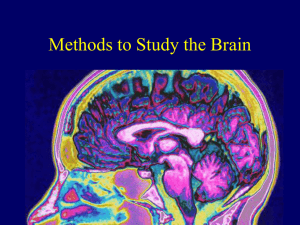 Module 11: Methods to Study the Brain
... • Reveal the activity of different areas • Shows consumption of radioactive glucose (active neurons use more glucose) as the subject performs various mental activities. ...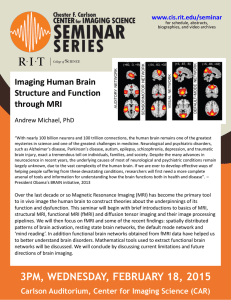 Imaging Human Brain Structure and Function through MRI
... "With nearly 100 billion neurons and 100 trillion connections, the human brain remains one of the greatest mysteries in science and one of the greatest challenges in medicine. Neurological and psychiatric disorders, such as Alzheimer's disease, Parkinson's disease, autism, epilepsy, schizophrenia, d ...
History of neuroimaging
The first neuroimaging technique ever is the so-called 'human circulation balance' invented by Angelo Mosso in the 1880s and able to non-invasively measure the redistribution of blood during emotional and intellectual activity.Then, in the early 1900s, a technique called pneumoencephalography was set. This process involved draining the cerebrospinal fluid from around the brain and replacing it with air, altering the relative density of the brain and its surroundings, to cause it to show up better on an x-ray, and it was considered to be incredibly unsafe for patients (Beaumont 8). A form of magnetic resonance imaging (MRI) and computed tomography (CT) were developed in the 1970s and 1980s. The new MRI and CT technologies were considerably less harmful and are explained in greater detail below. Next came SPECT and PET scans, which allowed scientists to map brain function because, unlike MRI and CT, these scans could create more than just static images of the brain's structure. Learning from MRI, PET and SPECT scanning, scientists were able to develop functional MRI (fMRI) with abilities that opened the door to direct observation of cognitive activities.