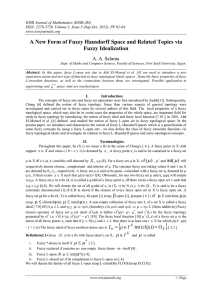 ... The concepts of fuzzy sets and fuzzy set operations were first introduced by Zadeh[11]. Subsequently, Chang [6] defined the notion of fuzzy topology. Since then various aspects of general topology were investigated and carried out in fuzzy sense by several authors of this field. The local properties ...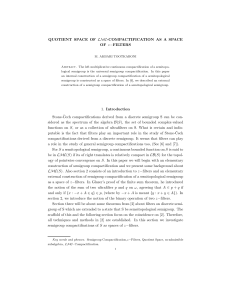 QUOTIENT SPACE OF LMC
... functions on S, or as a collection of ultrafilters on S. What is certain and indisputable is the fact that filters play an important role in the study of Stone-Čech compactifications derived from a discrete semigroup. It seems that filters can play a role in the study of general semigroup compactif ...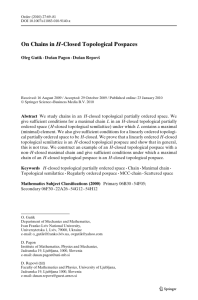 On Chains in H-Closed Topological Pospaces
... minimal element y ∈ X and a maximal element z ∈ X such that y x z (cf. [10]). Every maximal chain in a compact topological pospace is a compact subset and hence it contains minimal and maximal elements. Also, for any point x of a compact topological pospace X there exists a base at x which consi ...
Felix Hausdorff
Felix Hausdorff (November 8, 1868 – January 26, 1942) was a German mathematician who is considered to be one of the founders of modern topology and who contributed significantly to set theory, descriptive set theory, measure theory, function theory, and functional analysis.