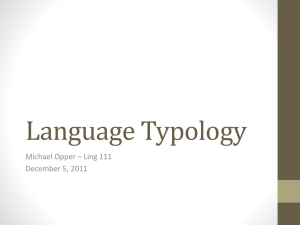 Language Typology
... an obvious explanation for universals. However, this is speculative and untestable. • Language Typology, as will be discussed today, classifies languages into types based on linguistic phenomena ...
Polysynthetic language
In linguistic typology, polysynthetic languages are highly synthetic languages, i.e. languages in which words are composed of many morphemes (word parts that have independent meaning but may or may not be able to stand alone). Polysynthetic languages typically have long ""sentence-words"" such as the Yupik word tuntussuqatarniksaitengqiggtuq which means ""He had not yet said again that he was going to hunt reindeer."" The word consists of the morphemes tuntu-ssur-qatar-ni-ksaite-ngqiggte-uq with the meanings, reindeer-hunt-future-say-negation-again-third.person.singular.indicative; and except for the morpheme tuntu ""reindeer"", none of the other morphemes can appear in isolation.Whereas isolating languages have a low morpheme-to-word ratio, polysynthetic languages have a very high ratio. There is no generally agreed upon definition of polysynthesis. Some authors apply it to languages with high morpheme-to-word ratios, whilst others use it for languages that are highly head-marking, or those that frequently use noun incorporation. At the same time, the question of whether to call a particular language polysynthetic is complicated by the fact that morpheme and word boundaries are not always clear cut, and languages may be highly synthetic in one area but less synthetic in other areas (e.g., verbs and nouns in Southern Athabaskan languages or Inuit languages).The term was invented by Peter Stephen Du Ponceau, who considered polysynthesis — as characterized by sentence words and noun incorporation — a defining feature of all Native American languages. This characterization was shown to be wrong, since many indigenous American languages are not polysynthetic, but it is a fact that polysynthetic languages are not evenly distributed throughout the world, but more frequent in the Americas, Australia, Siberia, and Papua New Guinea—though there are also examples in other areas. The concept became part of linguistic typology with the work of Edward Sapir, who used it as one of his basic typological categories. Recently Mark C. Baker has suggested formally defining polysynthesis as a macro-parameter within Noam Chomsky's principles and parameters theory of grammar. Other linguists question the basic utility of the concept for typology, since it covers many separate morphological types that have little else in common.