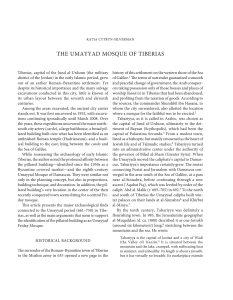 the umayyad mosque of tiberias
... found,38 the Achvah Street excavations also uncovered Byzantine layers. We can propose a settlement gap, but not, unfortunately, a chronological frame for it. Future excavations in that area might clarify the issue. On the other hand, a number of soundings and excavations completed to the south of S ...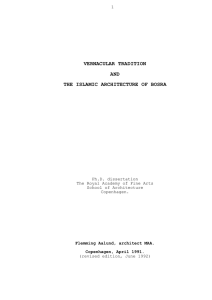 vernacular tradition and the islamic architecture of bosra
... superiority have left an imposing number of classical monuments, representing the importance of the Hauran during these periods in particular. The monumental buildings have been extraordinarily well preserved due to the hard basalt stone. Also the number of extant vernacular structures dating from R ...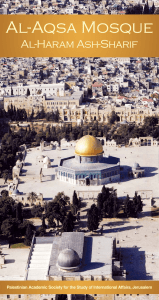 Al-Aqsa Mosque
... of Al-Aqsa Mosque. Originally a very steep hill, this area was raised through various structures in order to be on the same level of Al-Aqsa Mosque's northern courtyards, as Muslims wanted to build the Al-Qibly Mosque on strong foundations. Although the accurate year of construction remains unknown, ...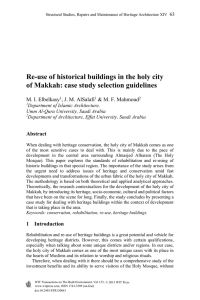 Re-use of historical buildings in the holy city of Makkah
... 68 Structural Studies, Repairs and Maintenance of Heritage Architecture XIV services for pilgrims, but in order to build new buildings we should put into consideration the investment equation and maintain the visual image of the area, and we should stick to the following criteria: a. Scale: You mus ...
Islamic architecture
Islamic architecture encompasses a wide range of both secular and religious styles from the foundation of Islam to the present day. What today is known as Islamic architecture owes its origin to similar structures already existing in Roman, Byzantine and Persian lands which the Muslims conquered in the 7th and 8th centuries. Further east, it was also influenced by Chinese and Indian architecture as Islam spread to Southeast Asia. The principal Islamic architectural types are: the Mosque, the Tomb, the Palace and the Fort. From these four types, the vocabulary of Islamic architecture is derived and used for other buildings such as public baths, fountains and domestic architecture.