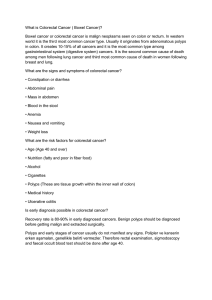 What is Colorectal Cancer
... world it is the third most common cancer type. Usually it originates from adenomatous polyps in colon. It creates 10-15% of all cancers and it is the most common type among gastrointestinal system (digestive system) cancers. It is the second common cause of death among men following lung cancer and ...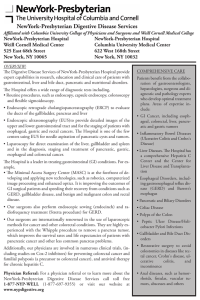 NewYork-Presbyterian Digestive Disease Services
... image processing and enhanced optics. It is improving the outcomes of GI surgical patients and speeding their recovery from conditions such as GERD, gallbladder disease, and benign and malignant colon and rectal disease. • Our surgeons also perform endoscopic sewing (endocinch) and radiofrequency tr ...
Liver cancer
Liver cancer or hepatic cancer (from the Greek hēpar, meaning liver) is a cancer that originates in the liver. Liver tumors are discovered on medical imaging equipment (often by accident) or present themselves symptomatically as an abdominal mass, abdominal pain, yellow skin, nausea or liver dysfunction.The leading cause of liver cancer is cirrhosis due to either hepatitis B, hepatitis C, or alcohol. In 2013, 300,000 deaths from liver cancer were due to hepatitis B , 343,000 to hepatitis C and 92,000 to alcohol. Liver cancers are not the same as liver metastases, which start in another part of the body and spread to the liver. Liver cancers are formed from either the liver itself or from structures within the liver, including blood vessels or the bile duct.Primary liver cancer is globally the sixth most frequent cancer, and the second leading cause of cancer death. In 2012 it occurred in 782,000 people and resulted in 746,000 deaths. Higher rates of liver cancer occur where hepatitis B and C are common, including East-Asia and sub-Saharan Africa. Five year survival rates are 17% in the United States.