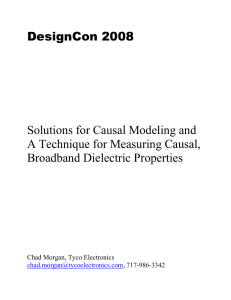 DesignCon 2008 Solutions for Causal Modeling and A Technique
... modeling. When working in the multi-GHz frequency range, this modeling typically requires full-wave electromagnetic analysis. Many engineers work diligently to learn complicated 3D modeling tools so that they can accurately represent physical geometries and electrical boundary conditions. However, p ...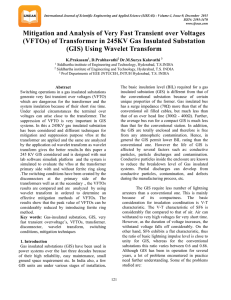 Mitigation and Analysis of Very Fast Transient over
... which are dangerous for the transformer and the system insulation because of their short rise time. Under special circumstances the terminal over voltages can arise close to the transformer. The suppression of VFTO is very important in GIS systems. In this a 245KV gas insulated substation has been c ...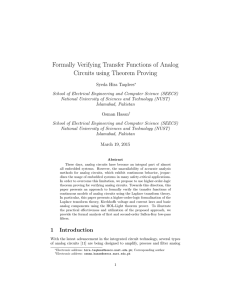 Formally Verifying Transfer Functions of Analog Circuits using
... signals in a wide range of applications. Functional verification of these analog circuits used independently or as a part of an embedded system is of paramount importance given the safety-critical nature of hardware applications these days. The goal of the functional verification of an analog circu ...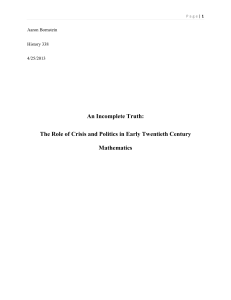 JRRP2014_Guccione_Bornstein - MD-SOAR
... the Library of Congress where I located a valuable compilation of primary sources annotated by the Dutch mathematician Dirk Van Dalen. I also reached out to both Professor Robert Lewand and Professor Justin Brody in the Math and Computer Science department to guide my research. After gaining a solid ...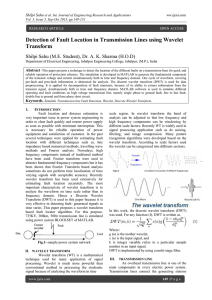 Z35149151
... transient signal, simultaneously both in time and frequency domain. MATLAB software is used to simulate different operating and fault conditions on high voltage transmission line, namely single phase to ground fault, line to line fault, double line to ground and three phase short circuit. Keywords- ...
Hilbert transform
In mathematics and in signal processing, the Hilbert transform is a linear operator which takes a function, u(t), and produces a function, H(u)(t), with the same domain. The Hilbert transform is important in the field of signal processing where it is used to derive the analytic representation of a signal u(t). This means that the real signal u(t) is extended into the complex plane such that it satisfies the Cauchy-Riemann equations.For example, the Hilbert transform leads to the harmonic conjugate of a given function in Fourier analysis, aka harmonic analysis. Equivalently, it is an example of a singular integral operator and of a Fourier multiplier.The Hilbert transform was originally defined for periodic functions, or equivalently for functions on the circle, in which case it is given by convolution with the Hilbert kernel. More commonly, however, the Hilbert transform refers to a convolution with the Cauchy kernel, for functions defined on the real line R (the boundary of the upper half-plane). The Hilbert transform is closely related to the Paley–Wiener theorem, another result relating holomorphic functions in the upper half-plane and Fourier transforms of functions on the real line.The Hilbert transform is named after David Hilbert, who first introduced the operator in order to solve a special case of the Riemann–Hilbert problem for holomorphic functions.