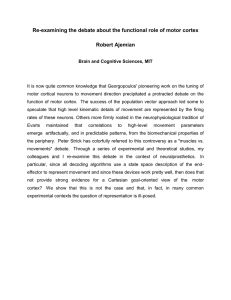 Re-examining the debate about the functional role of motor cortex
... emerge artifactually, and in predictable patterns, from the biomechanical properties of the periphery. Peter Strick has colorfully referred to this controversy as a "muscles vs. movements" debate. Through a series of experimental and theoretical studies, my colleagues and I re-examine this debate in ...
Muscle memory
Muscle memory has been used synonymously with motor learning, which is a form of procedural memory that involves consolidating a specific motor task into memory through repetition. When a movement is repeated over time, a long-term muscle memory is created for that task, eventually allowing it to be performed without conscious effort. This process decreases the need for attention and creates maximum efficiency within the motor and memory systems. Examples of muscle memory are found in many everyday activities that become automatic and improve with practice, such as riding a bicycle, typing on a keyboard, typing in a PIN, playing a musical instrument, or martial arts.