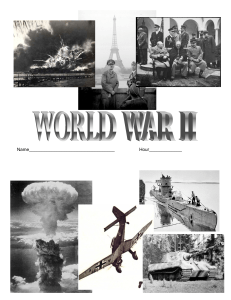 WWII Packet - Blue Valley Schools
... the dense jungle, were not spotted by British aircraft. By the time the British became aware of the Japanese, it was too late to mount an effective defense of the island. The British, who were prepared for an assault by sea, were not able to turn their guns around to the north in time to halt the Ja ...
Sook Ching
The Sook Ching (simplified Chinese: 肃清; traditional Chinese: 肅清; pinyin: Sùqīng, meaning ""purge through cleansing"") was a systematic extermination of perceived hostile elements among the Chinese in Singapore by the Japanese military during the Japanese occupation of Singapore and Malaya, after the British colony surrendered on 15 February 1942 following the Battle of Singapore. The Sook Ching operation, which was overseen by the Kempeitai, was later extended to include the Chinese in Malaya as well. The massacre took place from 18 February to 4 March 1942 at various places in the region.The Sook Ching was referred to as the Kakyōshukusei (華僑粛清), ""purging of Chinese"" by the Japanese. The Japanese also referred to it as the Shingapōru Daikenshō (シンガポール大検証), literally ""great inspection of Singapore"". Singapore's National Heritage Board uses the term ""Sook Ching"" in its publications.The memories of those who lived through that period have been captured at exhibition galleries in the Old Ford Motor Factory at Bukit Timah, the site of the former factory where the British surrendered to the Japanese on 15 February 1942.The current Japanese term for the massacre is Shingapōru Kakyōgyakusatsujiken (シンガポール華僑虐殺事件), literally ""(the) Singapore Chinese massacre"".There is no dispute in scholarly circles that the massacre took place, but Japanese and Singaporean sources disagree about the number of deaths. According to Hirofumi Hayashi (see next section), the Japanese Ministry of Foreign Affairs ""accepted that the Japanese military had carried out mass killings in Singapore ... During negotiations with Singapore, the Japanese government rejected demands for reparations but agreed to make a ""gesture of atonement"" by providing funds in other ways.""