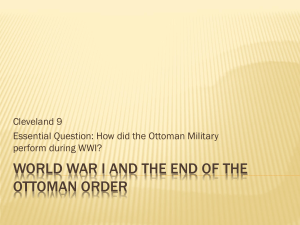 World War I and the End of the ottoman order
...  He arrested Arab nobles for treason, tried them in military tribunals.  11 were hung in 1915 and 20 were shot in 1916 all of whom were prominent Arabs.  Jamal may have caused anti-CUP sentiments but any antiOttoman movements were suppressed. ...
Battle of Baku
The Battle of Baku (Azerbaijani: Bakı döyüşü, Russian: Битва за Баку, Turkish: Bakü Muharebesi) in June – September 1918 was a clash between the Ottoman–Azerbaijani coalition forces led by Nuri Pasha and Bolshevik–Dashnak Baku Soviet forces, later succeeded by the British–Armenian–White Russian forces led by Lionel Dunsterville. The battle was fought as a conclusive part of the Caucasus Campaign, but as a beginning of the Armenian-Azerbaijani War.