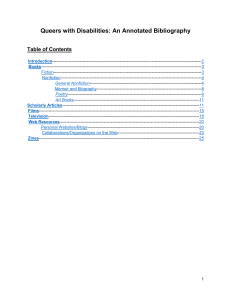 Queers with Disabilities - American Library Association
... A guidebook for people with disabilities to survive and find love for themselves and others. Includes several chapters on aspects of sexuality, including LGBTQ content. The author is gay and survived polio. Mintz, Susannah B. 2007. Unruly Bodies: Life Writing by Women with Disabilities. Chapel Hill: ...
Australian Lesbian and Gay Archives
The Australian Lesbian and Gay Archives (ALGA) is a non-profit organisation committed to the collection, preservation and celebration of material reflecting the lives and experiences of lesbian, gay, bisexual, transgender and intersex LGBTI Australians. [1] The Archives was established as an initiative of the 4th National Homosexual Conference, Sydney, August 1978, drawing on the previous work of founding President Graham Carbery. Since its establishment the collection has grown to over 150,000 items (450 shelf metres), constituting the largest and most significant collection of material relating to LGBT Australians and the largest collection of LGBT material in Australia, and the most prominent research centre for gay, lesbian, bisexual, trans* and intersex history in Australia.