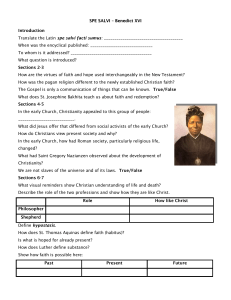 SPE SALVI – Benedict XVI
... What does the Vietnamese martyr Paul Le-Bao-Tinh teach us about the true nature of suffering and hope? Explore the meaning of the Latin word "con-solatio." What does love always require? Translate St. Bernard of Clairvaux's expression: Impassibilis est Deus, sed non ...
Conditional preservation of the saints
The conditional preservation of the saints, or commonly conditional security, is the Arminian belief that believers are kept safe by God in their saving relationship with Him upon the condition of a persevering faith in Christ. Arminians find the Scriptures describing both the initial act of faith in Christ, ""whereby the relationship is effected, and the persevering faith in Him whereby the relationship is sustained."" The relationship of ""the believer to Christ is never a static relationship existing as the irrevocable consequence of a past decision, act, or experience."" Rather, it is a living union ""proceeding upon a living faith in a living Savior."" This living union is captured in this simple command by Christ, ""Remain in me, and I in you"" (John 15:4).According to Arminians, biblical saving faith expresses itself in love and obedience to God (Galatians 5:6; Hebrews 5:8-9). In the Arminian Confession of 1621, the Remonstrants (or Arminian leaders) affirmed that true or living faith operates through love, and that God chooses to give salvation and eternal life through His Son, ""and to finally glorify all those and only those truly believing in his name, or obeying his gospel, and persevering in faith and obedience until death ... ""Arminians believe that ""It is abundantly evident from the Scriptures that the believer is secure."" Furthermore, believers have assurance in knowing there is no external power or circumstance that can separate them from the love of God they enjoy in union with Christ (Romans 8:35-39; John 10:27-29). Nevertheless, Arminians see numerous warnings in Scripture directed to genuine believers about the possibility of falling away in unbelief and thereby becoming severed from their saving union with God through Christ. Arminians hold that if a believer becomes an unbeliever (commits apostasy), they necessarily cease to partake of the promises of salvation and eternal life made to believers who continue in faith and remain united to Christ.Therefore, Arminians seek to follow the biblical writers in warning believers about the real dangers of committing apostasy. A sure and biblical way to avoid apostasy is to admonish believers to mature spiritually in their relationship with God in union with Christ and through power of the Spirit. Maturity takes place as Christ-followers keep on meeting with fellow believers for mutual encouragement and strength; exhorting each to love God and others; to be growing in the grace and knowledge of our Lord and Savior Jesus Christ; and to persevere in faith in prayerful dependence upon God through various trials and temptations.