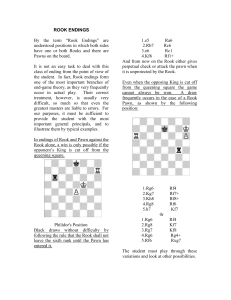 rook endings - Free State Chess
... By 1. a7, White achieves nothing, for the black Rook remains on the Rook's (a) file and thereby preventing the white Rook from leaving a8. It is also useless to bring the King to b7 of perpetual checks by the Rook. After 1. a7 there is only one pitfall which black must avoid, namely 1. …Kf2? The con ...
French Defence
The French Defence is a chess opening characterised by the moves:1. e4 e6The French has a reputation for solidity and resilience, though it can result in a somewhat cramped game for Black in the early stages. Black often gains counterattacking possibilities on the queenside while White tends to concentrate on the kingside.