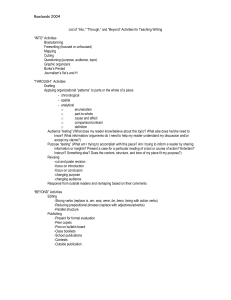 "Into," "Through," and "Beyond"
... Audience "testing" (What does my reader know/believe about this topic? What else does he/she need to know? What information/ arguments do I need to help my reader understand my discussion and/or accept my claims?) Purpose "testing" (What am I trying to accomplish with this piece? Am I trying to info ...
Proofreading
Proofreading is the reading of a galley proof or an electronic copy of a publication to detect and correct production errors of text or art. Proofreaders are expected to be consistently accurate by default because they occupy the last stage of typographic production before publication.