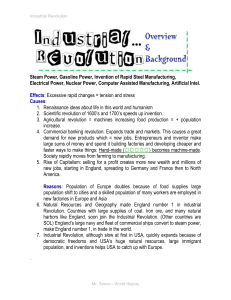 Industrial_Revolution - Miami Beach Senior High School
... SOL) England's large navy and fleet of commercial ships convert to steam power, make England number 1, in trade in the world. 7. Industrial Revolution, although slow at first in USA, quickly expands because of democratic freedoms and USA's huge natural resources, large immigrant population, and inve ...
Timeline of United States inventions (1890–1945)
A timeline of United States inventions (1890–1945) encompasses the ingenuity and innovative advancements of the United States within a historical context, dating from the Progressive Era to the end of World War II, which have been achieved by inventors who are either native-born or naturalized citizens of the United States. Copyright protection secures a person's right to his or her first-to-invent claim of the original invention in question, highlighted in Article I, Section 8, Clause 8 of the United States Constitution which gives the following enumerated power to the United States Congress:In 1641, the first patent in North America was issued to Samuel Winslow by the General Court of Massachusetts for a new method of making salt. On April 10, 1790, President George Washington signed the Patent Act of 1790 (1 Stat. 109) into law which proclaimed that patents were to be authorized for ""any useful art, manufacture, engine, machine, or device, or any improvement therein not before known or used."" On July 31, 1790, Samuel Hopkins of Pittsford, Vermont became the first person in the United States to file and to be granted a patent under the new U.S. patent statute. The Patent Act of 1836 (Ch. 357, 5 Stat. 117) further clarified United States patent law to the extent of establishing a patent office where patent applications are filed, processed, and granted, contingent upon the language and scope of the claimant's invention, for a patent term of 14 years with an extension of up to an additional 7 years.From 1836 to 2011, the United States Patent and Trademark Office (USPTO) has granted a total of 7,861,317 patents relating to several well-known inventions appearing throughout the timeline below. Some examples of patented inventions between the years 1890 and 1945 include John Froelich's tractor (1892), Ransom Eli Olds' assembly line (1901), Willis Carrier's air-conditioning (1902), the Wright Brothers' airplane (1903), and Robert H. Goddard's liquid-fuel rocket (1926).