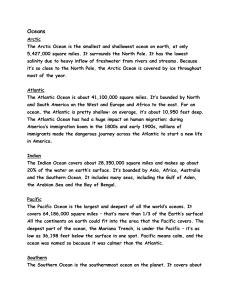 File
... salinity due to heavy inflow of freshwater from rivers and streams. Because it's so close to the North Pole, the Arctic Ocean is covered by ice throughout most of the year. Atlantic The Atlantic Ocean is about 41,100,000 square miles. It's bounded by North and South America on the West and Europe an ...
Atlantic Rowing Race
The Atlantic Rowing Race is an ocean rowing race from the Canary Islands to the West Indies, a distance of approximately 2,550 nm (2,930 statute miles or 4,700 km). The race was founded by Sir Chay Blyth and first held in 1997 with subsequent races roughly every two years since. The early races were run by Challenge Business Ltd. until the race was bought by Woodvale Events Ltd. in October 2003. Atlantic Campaigns SL, situated in La Gomera Canary Islands bought the rights to the Atlantic Rowing Race, now called The Talisker Whisky Atlantic Challenge"" - The World´s Toughest Row in May 2012. Next race is in December 2015. After 2015 the race will be annually starting each December.