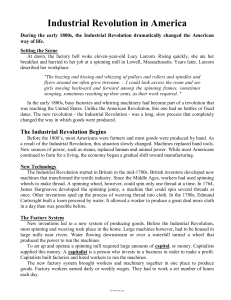 The Industrial Revolution
... During the early 1800s, the Industrial Revolution dramatically changed the American way of life. Setting the Scene At dawn, the factory bell woke eleven-year-old Lucy Larcom. Rising quickly, she ate her breakfast and hurried to her job at a spinning mill in Lowell, Massachusetts. Years later, Larcom ...
Lowell, Massachusetts
Lowell is a city in Middlesex County, Massachusetts, in the United States. With an estimated population of 108,861, it is the fourth-largest city in Massachusetts, after Boston, Worcester, and Springfield, and the second-largest in what the U.S. Census Bureau defines as Boston's metropolitan area.Incorporated in 1826, Lowell became known as the cradle of the American Industrial Revolution, and many of the city's historic sites have been preserved by the National Park Service. Lowell is home to the University of Massachusetts Lowell, a Carnegie-classified research university and the second largest public university in Massachusetts. Along with Cambridge, Lowell is one of Middlesex County's historical county seats prior to the abolition of county government in 1997.