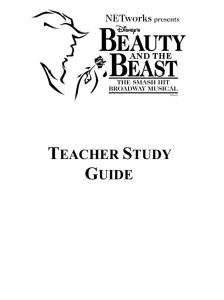 teacher study guide
... focused on combining the strengths of the beloved story with the possibilities that only live theatre can offer. The directive: Maintain the essence of the movie, while developing a unique theatrical production. ...
Beauty and the Beast (musical)
Beauty and the Beast is a musical with music by Alan Menken, lyrics by Howard Ashman and Tim Rice, and a book by Linda Woolverton produced by Disney Theatrical Productions. Based on the 1991 film of the same name, which was in turn adapted from the French fairy tale by Jeanne-Marie Leprince de Beaumont, Beauty and the Beast tells the story of a prince who is transformed into a hideous beast as punishment for his cruel and selfish ways, and an adventurous young woman named Belle whom he imprisons in his castle. In order to become human again, the Beast must earn Belle's love before it's too late. Seven new songs were written for the stage musical. Beauty ran on Broadway for 5,461 performances between 1994 and 2007, becoming Broadway's ninth longest-running production in history.The musical has grossed more than $1.4 billion worldwide and played in thirteen countries and 115 cities. It has also become a popular choice for high school productions.