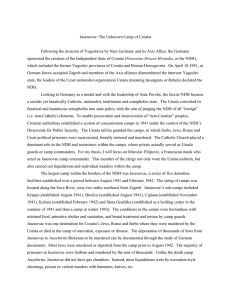 Jasenovac: The Unknown Camp of Croatia Following the invasion of
... (i.e. non-Catholic) elements. To enable persecution and incarceration of "non-Croatian" peoples, Croatian authorities established a system of concentration camps in 1941 under the control of the NDH's Directorate for Public Security. The Ustaša militia guarded the camps, in which Serbs, Jews, Roma a ...
Catholic clergy involvement with the Ustaše
Catholic clergy involvement with the Ustaše covers the role of the Croatian Catholic Church in the Independent State of Croatia (NDH), a Nazi puppet state created on the territory of Axis-occupied Yugoslavia in 1941. The NDH was controlled by the Ustaše movement, which was not recognized by the Holy See, although the Holy See, more specifically Pope Pius XII, was criticized for not condemning the movement more timely and forcefully.