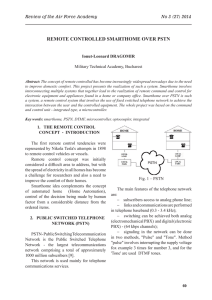 REMOTE CONTROLLED SMARTHOME OVER PSTN
... The software requires to the caller to enter a password to have access in the system (1990*) after which he can command the device. The control of devices is via a power block. The entire activity of the system is coordinated and developed around embedded computing unit - PIC16F84 microcontroller. 3 ...
Western Electric
Western Electric Company (WE, WECo) was an American electrical engineering and manufacturing company, the supplier to AT&T from 1881 to 1996. The company was responsible for many technological innovations and seminal developments in industrial management. It also served as the purchasing agent for the member companies of the Bell System.