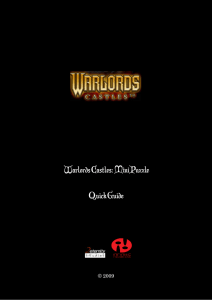 Warlords Castles: Mini Puzzle Quick Guide
... The goal of the game is to match 3 or more symbols of the same type, either in rows or in columns, in  order to keep the resource count (represented by color bars) above zero. ...
Jagged Alliance 2
Jagged Alliance 2 is a tactical role-playing game for PC, released in 1999 for Windows, and later ported to Linux by Tribsoft. It is the third game in the Jagged Alliance series, and was followed by the expansion Unfinished Business in 2000. Two commercial releases of the mod Wildfire (2004) are also available as official expansion packs. Jagged Alliance 2 and the Unfinished Business expansion were combined in the Jagged Alliance 2 Gold Pack, released on August 6, 2002.The game takes place in the fictional country of Arulco, which has been ruled by a ruthless monarch Deidranna for several years. The player is put in control of several hired mercenaries and with aid of local citizens and militia must reclaim Arulco's cities and ultimately defeat Deidranna.The game uses a strategic map screen of Arulco where player may issue high level strategic orders for their troops, such as travelling or prolonged training. Combat and individual location exploration takes place in tactical screen, where player can issue individual direct commands to their mercenaries, such as run, shoot, talk and so on. The game features a wide variety of guns, armour, and items that the player may use.The game received positive scores from reviewers. It was praised for its freedom of action, memorable characters, and non-linear and tactical gameplay.