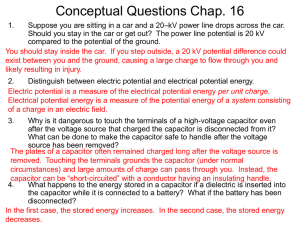 Conceptual Questions Chap. 13
... You should stay inside the car. If you step outside, a 20 kV potential difference could exist between you and the ground, causing a large charge to flow through you and likely resulting in injury. ...
UltraBattery
UltraBattery is a hybrid energy storage device invented by Australia's Commonwealth Scientific and Industrial Research Organisation (CSIRO). UltraBattery combines ultracapacitor technology with lead-acid battery technology in a single cell with a common electrolyte.