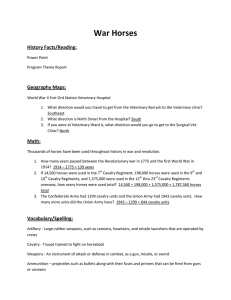 War Horses
... Message - A usually short communication transmitted by words, signals, or other means from one person, station, or group to another ...
Horses in World War II
Horses in World War II were used by the belligerent nations for transportation of troops, artillery, materiel, and, to a lesser extent, in mobile cavalry troops. The role of horses for each nation depended on its military strategy and state of economy and was most pronounced in German and Soviet ground forces. Over the course of the war Nazi Germany and the Soviet Union employed more than six million horses.Most British regular cavalry regiments were mechanised between 1928 and the outbreak of World War II. The United States retained a single cavalry regiment stationed in the Philippines, and the German Army retained a single brigade. The French Army of 1939–1940 blended horse regiments into their mobile divisions, while the Red Army of 1941 had thirteen cavalry divisions. Italian, Japanese, Polish and Romanian armies employed substantial cavalry formations.Horse-drawn transportation was most important for Germany, as it was relatively lacking in natural oil resources. Infantry and horse-drawn artillery formed the bulk of the German Army throughout the war; only one-fifth of the Army belonged to mobile panzer and mechanized divisions. Each German infantry division employed thousands of horses and thousands of men taking care of them. Despite losses of horses to enemy action, exposure and disease, Germany maintained a steady supply of work and saddle horses until 1945. Cavalry in the Army and the SS gradually increased in size, peaking at six cavalry divisions in February 1945.The Red Army was substantially motorized from 1939–1941 but lost most of its war equipment in Operation Barbarossa. These losses were temporarily remedied by forming masses of mounted infantry which were used as strike forces in the Battle of Moscow. Heavy casualties and a shortage of horses soon compelled the Soviets to reduce the number of cavalry divisions. As tank production and Allied supplies made up for the losses of 1941, the cavalry was merged with tank units, forming more effective strike groups. From 1943–1944, cavalry gradually became the mobile infantry component of the tank armies. By the end of the war Soviet cavalry was reduced to its pre-war strength. The logistical role of horses in the Red Army was not as high as it was in the German Army due to Soviet domestic oil reserves and American truck supplies.