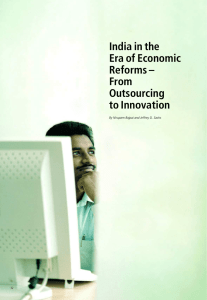 India in the Era of Economic Reforms – From
... found that MNCs went to India not merely to cut their costs, but also to access good quality services. Furthermore, over time, they continued to stay there for continued quality at competitive costs. The fact that India has been able to provide good quality services has distinguished it vastly from ...
Princely state
A princely state (also called native state (legally) or Indian state) was a nominally sovereign entity of India during the British Raj that was not directly governed by the British, but rather by a local ruler under a form of indirect rule, subject to a subsidiary alliance and the suzerainty or paramountcy of the British Crown.There were officially 565 princely states. in India at the time of independence in 1947, apart from thousands of zamindaris and jagirs. By 1950, almost all these states had acceded to either India or Pakistan, nine to Pakistan and the rest to India. The accession process was largely peaceful except in the case of Jammu & Kashmir (whose king decided to accede to India, but only after an invasion by Pakistan-based tribal militia) and Hyderabad. Some two hundred of the states had an area of less than 25 square kilometres (10 square miles).The princes who had acceded to India were granted a pension as per the terms of accession.Some of the erstwhile princes were even appointed Rajpramukhs or governor of federations of two or more princely states. The privy purses were, however, abolished in 1971. The states which acceded to Pakistan retained their autonomy until the promulgation of a new constitution in 1956 when all these states without exception were merged with the province of West Pakistan.