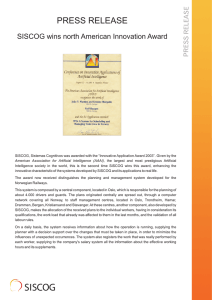 press release
... Railways), Stansted Express (from UK), S-tog (Suburban trains from Copenhagen), VR (Finnish Railways) and WAGN-West Anglia Great Northern Railway (from UK). Currently, about 20.000 people in several European countries have its daily work planned and managed by systems developed by SISCOG. In the las ...
Frederick Mills (engineer)
Frederick Mills (1898 – 22 June 1949) was Chief Mechanical Engineer of the Western Australian Government Railways from 1940 until his death in 1949. He was seconded to the Federal Government during the Second World War and was known throughout his career for designing a number of the influential steam locomotives for operation in Western Australia, including a number of controversial designs. No fewer than four Royal Commissions were held into various aspects of WAGR operations – including an examination of the safety of the ASG locomotive and other aspects pertinent to its design and development – during his tenure, all of them into issues against which Mills himself fought unceasingly.