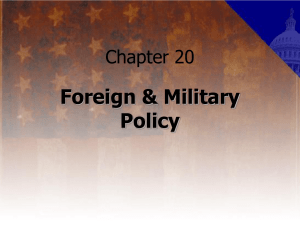 Unit 5: Public Policy
... Other Sources of Foreign Policy (cont.) • The Intelligence Community – includes government organizations involved in information gathering about the capabilities and intentions of other countries • Some agencies in the intelligence community include • The Central Intelligence Agency (CIA) • Nationa ...
Research and Analysis Wing
The Research and Analysis Wing (R&AW or RAW) is the primary foreign intelligence agency of India. It was created after the Sino-Indian War 1962 and Indo-Pakistani War of 1965 which exposed gaps in intelligence gathering undertaken by the Intelligence Bureau (which until then handled both domestic and foreign intelligence). This convinced the Government of India that a specialised, independent agency was required for foreign intelligence gathering. Thus R&AW was formed in September 1968 under the guidance of its first Director, Rameshwar Nath Kao.The primary function of R&AW is gathering foreign intelligence and counter-terrorism. In addition, it is responsible for obtaining and analysing information about foreign governments, corporations and persons to advise Indian policymakers. It is also involved in the security of India's nuclear programme. Foreign analysts have often referred to R&AW as an effective organisation and one of the primary instruments of India's national power and as one of the most fearsome intelligence agencies operating in the region.Headquartered in New Delhi, R&AW's current chief is Rajinder Khanna, a 1978-batch IPS cadre officer.