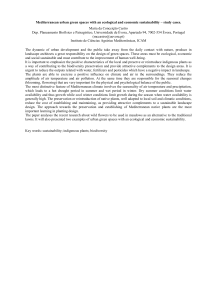 Mediterranean urban green paces with an ecological and economic
... The dynamic of urban development and the public take away from the daily contact with nature, produce in landscape architects a great responsibility on the design of green spaces. These areas must be ecological, economic and social sustainable and must contribute to the improvement of human well-bei ...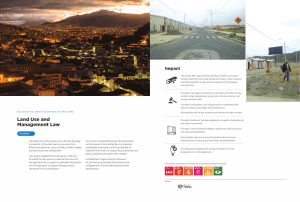 Land Use and Management Law - Implementing the New Urban
... The objective of this project was to develop the legal component of the urban planning process from different perspectives, such as safety, climate change and local economic development. The project established the necessary conditions to enable the discussion on National land use and management law ...
Eco-cities
An eco-city is a city built off the principles of living within the means of the environment. The ultimate goal of many eco-cities is to eliminate all carbon waste, to produce energy entirely through renewable sources, and to incorporate the environment into the city; however, eco-cities also have the intentions of stimulating economic growth, reducing poverty, organizing cities to have higher population densities, and therefore higher efficiency, and improving health.