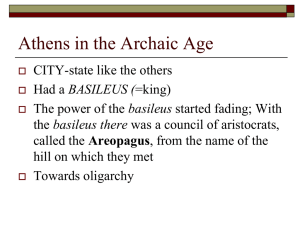 Athens in the Archaic Age
... The third class could serve on an elected council of four hundred people. COUNCIL OF 400: was organized according to the four tribes making up the Athenian people; each tribe was allowed to elect one hundred representatives from this third class. This council of four hundred served as a kind of bala ...
Basileus
Basileus (Greek: βασιλεύς) is a Greek term and title that has signified various types of monarchs in history. In the English-speaking world it is perhaps most widely understood to mean ""King"" or ""Emperor"". The best known use of the title is by the Byzantine emperors, but the title also has a longer history of use by sovereigns and other persons of authority in ancient Greece, as well as for the kings of modern Greece. The feminine forms are Basilissa (Βασίλισσα), Basileia (Βασίλεια), Basilis (Βασιλίς), or the archaic Basilinna (Βασιλίννα), meaning ""Queen"" or ""Empress"".