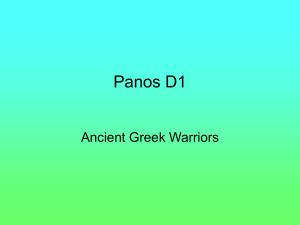 Panos D1
... "weaponed or armed men" crafted sophisticated weaponry and armor to meet what came to be formalized Hellenic shock warfare. The helmet, breastplate, and greaves were constructed entirely of bronze, providing immunity from the attacks of most swords, missiles, and spears. ...
Spartan: Total Warrior
Spartan: Total Warrior is a 2005 hack and slash video game developed by Creative Assembly and published by Sega for PlayStation 2, Xbox and GameCube. Released in Europe and North America in October, it is a spin-off of the Total War series.The plot revolves around a Spartan warrior, secretly guided by the god Ares, as he fights alongside his Greek allies against the invading Roman Empire. While the Total War series traditionally focuses upon real historical scenarios, the plot of Spartan: Total Warrior is fictional, involving figures from both Greek and Roman mythology, and featuring many ahistorical elements (the most obvious being the Roman Empire and the Spartan state did not exist at the same time in history). It is also the only installment in the series to have been released for video game consoles rather than PCs or Macs. It was the first Total War game published by Sega, who had purchased Creative Assembly earlier in 2005.Spartan received a mixed to positive reception. Although some reviewers found the game to be a glorified button-masher, and criticized the combat as repetitive, others praised the game engine and the scope of the battles.