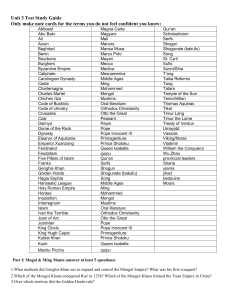 Unit 3 Test Study Guide Only make note cards for the terms you do
... 7.Which explorer's narratives of the Mongol Empire piqued European interest Asia? 8.What was the worst thing to spread via Mongol trade routes? 9.To which religion did the Il-khan ruler Ghazan convert in 1295? 10.With whom did the Golden Horde form an alliance in an attempt to repel non-Muslims in t ...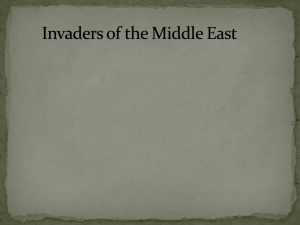 Challenges to Islam
...  Crusader armies establish kingdoms in Syria and Palestine  When the Crusaders capture Jerusalem, they celebrate by killing all Muslims, Jews, and even Orthodox Christians! ...
Mongol Armenia
Mongol Armenia or Ilkhanid Armenia refers to the period in which both Armenia (during its union with the Kingdom of Georgia) and the Armenian Kingdom of Cilicia became tributary and vassal to the Mongol Empire (the later Ilkhanate) in the 1230s.Armenia and Cilicia remained under Mongol influence until around 1335.During the time period of the later Crusades (1250s to 1260s), there was a short-lived Armenian-Mongol alliance, engaged in some combined military operations against their common enemy, the Mameluks. They succeeded in capturing Baghdad in 1258, but suffered defeat eight years later.The Armenian calls for a wider Christian-Mongol alliance against Mameluk Islam, advocated notably by Hayton of Corycus, were ignored by the Latin powers in the Levant, leading to the demise of the European Crusader States and the imminent failure of the Crusades as a whole.