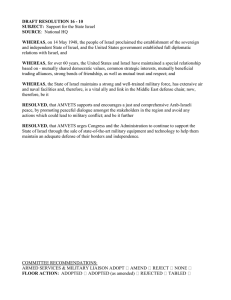 2016-10-Draft-Resolution-Israel
... and independent State of Israel, and the United States government established full diplomatic relations with Israel, and WHEREAS, for over 60 years, the United States and Israel have maintained a special relationship based on - mutually shared democratic values, common strategic interests, mutually ...
The Israel Lobby and U.S. Foreign Policy
The Israel Lobby and U.S. Foreign Policy is a book by John Mearsheimer, Professor of Political Science at the University of Chicago, and Stephen Walt, Professor of International Relations at the Kennedy School of Government at Harvard University, published in late August 2007. It was a New York Times Best Seller.The book describes the lobby as a ""loose coalition of individuals and organizations who actively work to steer U.S. foreign policy in a pro-Israel direction"". The book ""focuses primarily on the lobby's influence on U.S. foreign policy and its negative effect on American interests"". The authors also argue that ""the lobby's impact has been unintentionally harmful to Israel as well"".Both Mearsheimer and Walt argue that although ""the boundaries of the Israel lobby cannot be identified precisely"", it ""has a core consisting of organizations whose declared purpose is to encourage the U.S. government and the American public to provide material aid to Israel and to support its government's policies, as well as influential individuals for whom these goals are also a top priority"". They note that ""not every American with a favorable attitude to Israel is part of the lobby"", and that although ""the bulk of the lobby is comprised of Jewish Americans"", there are many American Jews who are not part of the lobby, and the lobby also includes Christian Zionists. They also claim a drift of important groups in ""the lobby"" to the right, and overlap with the neoconservatives.The book was preceded by a paper commissioned by The Atlantic Monthly and written by Mearsheimer and Walt. The Atlantic Monthly rejected the paper, and it was published elsewhere. The paper attracted considerable controversy, both praise and criticism.