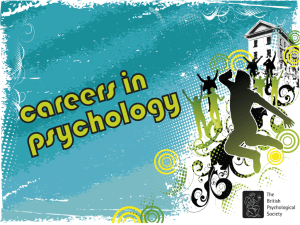 Presentation for Careers Speakers
... participants across a range of both team and individual sports and from amateur to elite levels of competition. o An exercise psychologist is primarily concerned with the application of psychology to increase exercise participation and with the general public. o Sport and Exercise psychologists work ...
Lightner Witmer
Lightner Witmer (June 28, 1867 – July 19, 1956) was an American psychologist who is credited with the introduction of the term and the founding of ""Clinical Psychology."" Witmer also founded the world's first ""Psychological Clinic"" in the United States at the University of Pennsylvania in 1896, as well as the first journal of clinic psychology and first clinical hospital school in 1907.Witmer contributed greatly to numerous branches of psychology including school psychology and clinical psychology. He also contributed to the development of the field of special education. However, despite all of his contributions to psychology Witmer is one of the least well-known figures in the entire discipline.Little is known about Witmer's life. He is described as being an introverted person who limited the information he shared about his personal life.