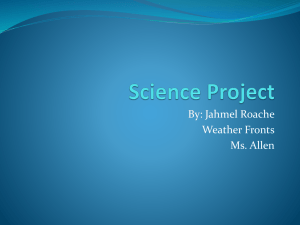 JAHMEL JUNE 8
... I feel this way is because you cannot really tell when it is going to rain or be nice. I feel kind of aakward when I walk outside with a raincoat on and its 85 degrees. The April heat wave was one of the best climates in my neighborhood. It was nice and hot and for the first time in April ever, it f ...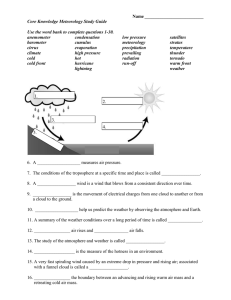 Meteorology Study Guide
... Use the word bank to complete questions 1-30. anemometer condensation barometer cumulus cirrus evaporation climate high pressure cold hot cold front hurricane lightning ...
Cold-air damming
Cold air damming, or CAD, is a meteorological phenomenon that involves a high pressure system (anticyclone) accelerating equatorward east a north-south oriented mountain range due to the formation of a barrier jet behind a cold front associated with the poleward portion of a split upper level trough. Initially, a high pressure system moves poleward of a north-south mountain range. Once it sloshes over poleward and eastward of the range, the flow around the high banks up against the mountains, forming a barrier jet which funnels cool air down a stretch of land east of the mountains. The higher the mountain chain, the deeper the cold air mass becomes lodged to its east, and the greater impediment it is within the flow pattern and the more resistant it becomes to intrusions of milder air.As the equatorward portion of the system approaches the cold air wedge, persistent low cloudiness, such as stratus, and precipitation such as drizzle develop, which can linger for long periods of time; as long as ten days. The precipitation itself can create or enhance a damming signature, if the poleward high is relatively weak. If such events accelerate through mountain passes, dangerously accelerated mountain-gap winds can result, such as the Tehuantepecer and Santa Ana winds. These events are seen commonly in the northern Hemisphere across central and eastern North America, south of the Alps in Italy, and near Taiwan and Korea in Asia. Events in the southern Hemisphere have been noted in South America east of the Andes.