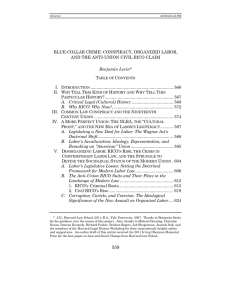 Full Article - Albany Law Review
... competition.17 Cintas's RICO claims were based on the allegation that the comprehensive campaign was extortive and therefore violated the Hobbs Act,18 which defines unlawful extortion as ―the obtaining of property from another, with his consent, induced by wrongful use of actual or threatened force, ...
Racketeer Influenced and Corrupt Organizations Act
The Racketeer Influenced and Corrupt Organizations Act, commonly referred to as the RICO Act or simply RICO, is a United States federal law that provides for extended criminal penalties and a civil cause of action for acts performed as part of an ongoing criminal organization. The RICO Act focuses specifically on racketeering, and it allows the leaders of a syndicate to be tried for the crimes which they ordered others to do or assisted them in doing, closing a perceived loophole that allowed a person who instructed someone else to, for example, murder, to be exempt from the trial because he did not actually commit the crime personally.RICO was enacted by section 901(a) of the Organized Crime Control Act of 1970 (Pub.L. 91–452, 84 Stat. 922, enacted October 15, 1970), and is codified at 18 U.S.C. ch. 96 as 18 U.S.C. §§ 1961–1968. G. Robert Blakey, an adviser to the United States Senate Government Operations Committee, drafted the law under the close supervision of the committee's chairman, Senator John Little McClellan. It was enacted as Title IX of the Organized Crime Control Act of 1970, and signed into law by Richard M. Nixon. While its original use in the 1970s was to prosecute the Mafia as well as others who were actively engaged in organized crime, its later application has been more widespread.Beginning in 1972, 33 States adopted state RICO laws to be able to prosecute similar conduct.