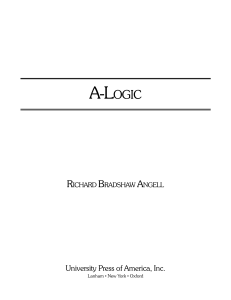 a-logic - Digital

[email protected]

State University
... set of theorems, the same semantical foundations, and use the same concepts of validity and logical truth though they differ in notation, choices of primitives and axioms, diagramatic devices, modes of introduction and explication, etc. This standard logic is an enormous advance over any preceding s ...
List of first-order theories
In mathematical logic, a first-order theory is given by a set of axioms in somelanguage. This entry lists some of the more common examples used in model theory and some of their properties.