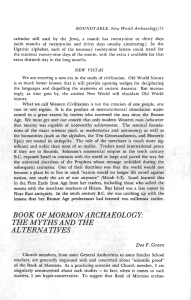 book of mormon archaeology: the myths and the alternatives
... Those volumes which most flagrantly ignore time and space and most radically distort, misinterpret, or ignore portions of the archaeological evidence are the popular Farnsworth volumes.6 Also inadequate, from a professional archaeologist's point of view, are the well intentioned volumes by Milton R. ...
Archaeology and the Book of Mormon
Since the publication of the Book of Mormon in 1830, both Latter-day Saint (LDS or Mormons) and non-Mormon archaeologists have studied its claims in reference to known archaeological evidence. Members of The Church of Jesus Christ of Latter-day Saints (LDS Church) and other denominations of the Latter Day Saint movement generally believe that the Book of Mormon describes ancient historical events in the Americas, but mainstream historians and archaeologists do not regard the Book of Mormon as a work of ancient American history.The Book of Mormon describes God's dealings with three heavily populated, literate, and advanced civilizations in the Americas over the course of several hundred years. The book primarily deals with the Nephites and the Lamanites, who it states existed in the Americas from about 600 BC to about AD 400. It also deals with the rise and fall of the Jaredite nation, which the Book of Mormon says came from the Old World shortly after the confounding of the languages at the Tower of Babel.Some Mormon archaeologists and researchers claim various archaeological findings such as place names, and ruins of the Inca, Maya, Olmec, and other ancient American and Old World civilizations as giving credence to the Book of Mormon record. Mainstream archaeologists disagree with these conclusions, arguing that the Book of Mormon mentions several animals, plants, and technologies that are not substantiated by the archaeological record between 3100 BC to 400 AD in America, including the ass, cattle, horses, oxen, domesticated sheep, swine, goats, elephants, wheat, barley, silk, steel, swords, scimitars, chariots and other elements.