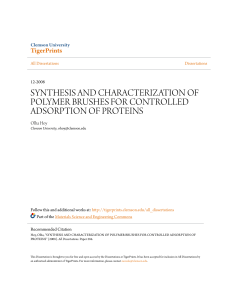 synthesis and characterization of polymer brushes for
... Mixed polymer brushes consisting of protein repelling and protein attractive components were used, with a "grafting to" method employed for the synthesis of polymer layers. First, poly(ethylene glycol), the protein repelling component of the mixed polymer brush, was tethered to the surface. Then, po ...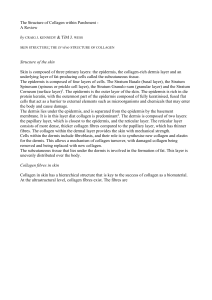 The Structure of Collagen within Parchment
... shown; the non-helical regions represent the telopeptides at the end of the molecules. The four molecules that do not display the gap area are approximately 234 amino acids in length; the molecule that displays the gap is approximately 108 amino acids in length (0.46 of D). C) The electron density p ...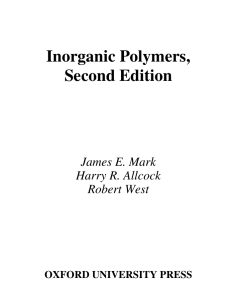 Inorganic Polymers, Second Edition
... replaced by x. Note that this formula says nothing about end groups that may be present. If the polymer chain is very long, the end groups represent only a small component of the molecule, and are ignored in the formula. The formula shown in 1.1 can also represent a cyclic (or macrocyclic) structure ...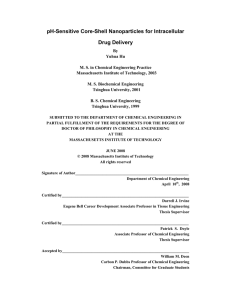 pH-Sensitive Core-Shell Nanoparticles for Intracellular Drug Delivery
... 5.3.2 Functional Test of Cytosolic OVA Delivery: Priming of OVA-Specific CD8+ T Cells by Nanoparticle-treated DCs .......................................................118 5.4 Cytosolic Delivery of Influenza A ..................................................................... 124 5.4.1 Influenza ...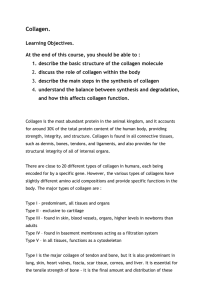 Collagen is the most abundant protein in the animal kingdom, and it
... easy to move within the cell as it undergoes further modifications. As the collagen molecule is produced, it undergoes many changes, termed posttranslational modifications. One of the first modifications to take place is hydroxylation of selected proline and lysine amino acids in the procollagen. Sp ...
Self-healing hydrogels
Self-healing hydrogels are a specialized type of polymer hydrogel. A hydrogel is a macromolecular polymer gel constructed of a network of crosslinked polymer chains. Hydrogels are synthesized from hydrophilic monomers by either chain or step growth, along with a functional crosslinker to promote network formation. A net-like structure along with void imperfections enhance the hydrogel's ability to absorb large amounts of water via hydrogen bonding. As a result, hydrogels, self-healing alike, develop characteristic firm yet elastic mechanical properties. Self-healing refers to the spontaneous formation of new bonds when old bonds are broken within a material. The structure of the hydrogel along with electrostatic attraction forces drive new bond formation through reconstructive covalent dangling side chain or non-covalent hydrogen bonding. These flesh-like properties have motivated the research and development of self-healing hydrogels in fields such as reconstructive tissue engineering as scaffolding, as well as use in passive and preventive applications.