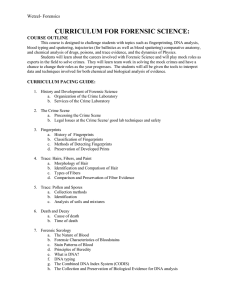 Course Outline FOR FORENSIC SCIENCE
... Work independently and in groups to apply that knowledge Use scientific terminology to describe the techniques they are using Understand how science is used to solve societal problems such as crime Incorporate History with science Explain how Criminal justice fits in with Forensic Science Understand ...
Forensic chemistry
Forensic chemistry is the application of chemistry and its various subfields, such as forensic toxicology, in a legal setting. A forensic chemist can assist in the identification of unknown materials found at a crime scene. Forensic specialists in this field have a wide array of different methods and instrumentation at their disposal to help identify unknown substances. Specific methods common to the field include high-performance liquid chromatography (HPLC), gas chromatography-mass spectrometry (GC-MS), ultraviolet–visible spectroscopy (UV-Vis), Fourier transform infrared spectroscopy (FTIR), and thin layer chromatography (TLC). The array of different methods is important due to the destructive nature of some instruments. If possible, nondestructive methods should always be attempted first to preserve evidence. Along with other forensic specialists, forensic chemists commonly testify in court as expert witnesses regarding their findings.