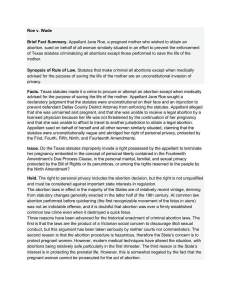 Roe V. Wade Summary
... licensed physician because her life was not threatened by the continuation of her pregnancy and that she was unable to afford to travel to another jurisdiction to obtain a legal abortion. Appellant sued on behalf of herself and all other women similarly situated, claiming that the statutes were unco ...
History of abortion law debate
In the earliest written sources, abortion is not considered as a general category of crime. Rather, specific kinds of abortion are prohibited, for various social and political reasons. In the earliest texts, it can be difficult to discern to what extent a particular religious injunction held force as secular law. In later texts, the rationale for abortion laws may be sought in a wide variety of fields including philosophy, religion, and jurisprudence. These rationales were not always included in the wording of the actual laws.