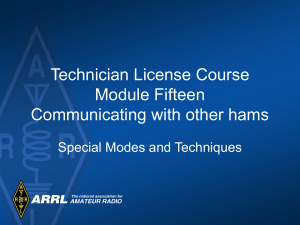 Module 15
... What is required in place of on-air station identification when sending signals to a radio control model using amateur frequencies? A. Voice identification must be transmitted every 10 minutes B. Morse code ID must be sent once per hour C. A label indicating the licensee's name, call sign and addres ...
Station identification
Station identification (ident, network ID or channel ID) is the practice of radio or television stations or networks identifying themselves on-air, typically by means of a call sign or brand name (sometimes known, particularly in the United States, as a ""sounder"" or ""stinger"", more generally as a station or network ID). This may be to satisfy requirements of licensing authorities, a form of branding or a combination of both. As such, it is closely related to production logos used in television and cinema, alike.Station identification used to be done regularly by an announcer at the halfway point during the presentation of a television program, or in between programs.