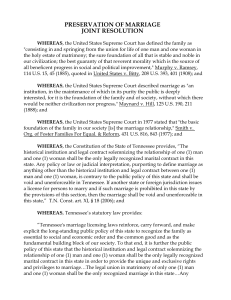 Tennessee
... WHEREAS, the Constitution of the State of Tennessee provides, "The historical institution and legal contract solemnizing the relationship of one (1) man and one (1) woman shall be the only legally recognized marital contract in this state. Any policy or law or judicial interpretation, purporting to ...
Conflict of marriage laws
Conflict of marriage laws is the conflict of laws regarding marriage in different jurisdictions. When marriage-related issues arise between couples with diverse backgrounds, questions as to which legal systems and norms should be applied to the relationship naturally follow with various potentially applicable systems frequently conflicting with one another.