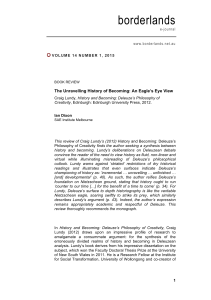 The Unravelling History of Becoming - Borderlands e
... Carroll reveals depths by dancing on the surfaces where Artaud encompasses the 'body without organs' (a term coined by Artaud himself in his 1949 play, To Have Done with the Judgment of God). For Deleuze, Artaud represents a milieu with 'no longer any frontier between things and words because bodies ...
Gayatri Chakravorty Spivak
Gayatri Chakravorty Spivak (born February 24, 1942) is a University Professor at Columbia University, where she is a founding member of the school's Institute for Comparative Literature and Society. She is best known for the essay ""Can the Subaltern Speak?,"" considered a founding text of postcolonialism, and for her translation of and introduction to Jacques Derrida's De la grammatologie. In 2012, Spivak was awarded the Kyoto Prize in Arts and Philosophy for being ""a critical theorist and educator speaking for the humanities against intellectual colonialism in relation to the globalized world."" In 2013, she received the Padma Bhushan, the third highest civilian award given by the Republic of India.Spivak is known for her cultural and critical theories that challenge the ""legacy of colonialism"" in the way readers engage with literature and culture. She often focuses on the texts of peoples who are typically marginalized by dominant western culture, including immigrant, working class, women and other subaltern populations.