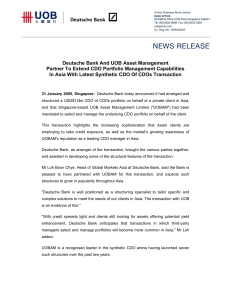 Deutsche Bank And UOB Asset Management Partner
... Sea Eng, Head of Global Treasury & Asset Management at parent-company, United Overseas Bank Limited. "We are excited to be involved in this transaction. It is a testament to UOB Asset Management's continued dedication to providing Asian investors with innovative structures. We look forward to partic ...
Deutsche Bank
Deutsche Bank AG (literally ""German Bank""; pronounced [ˈdɔʏ̯t͡ʃə ˈbaŋk ʔaːˈgeː]) is a German global banking and financial services company with its headquarters in the Deutsche Bank Twin Towers in Frankfurt. It has more than 100,000 employees in over 70 countries, and has a large presence in Europe, the Americas, Asia-Pacific and the emerging markets. In 2009, Deutsche Bank was the largest foreign exchange dealer in the world with a market share of 21 percent.The bank offers financial products and services for corporate and institutional clients along with private and business clients. Services include sales, trading, research and origination of debt and equity; mergers and acquisitions (M&A); risk management products, such as derivatives, corporate finance, wealth management, retail banking, fund management, and transaction banking.On 26 July 2011, along with its second quarter earnings report, Deutsche Bank reported that Anshu Jain, head of investment banking and Juergen Fitschen, head of the German business, would replace Josef Ackermann as co-CEOs starting in 2012. Fears that Deutsche Bank could neglect its German roots and expand risk-taking activities prompted key members of the supervisory board to opt for the dual CEO model. Deutsche Bank is listed on both the Frankfurt (FWB) and New York stock exchanges (NYSE).On 7 June 2015, the co-CEOs, Juergen Fitschen and Anshu Jain, both offered their resignations to the bank's supervisory board, which resignations were accepted. Anshu Jain's resignation takes effect on 30 June 2015, although he will provide consultancy to the bank until January 2016. Juergen Fitschen will temporarily continue as joint CEO until 19 May 2016. The appointment of John Cryan as joint CEO was announced, effective 1 July 2015; he will become sole CEO at the end of Juergen Fitschen's term.In January 2014 Deutsche Bank reported a €1.2 billion ($1.6 billion) pre-tax loss for the fourth quarter of 2013. This came after analysts had predicted a profit of nearly €600 million, according to FactSet estimates. Revenues slipped by 16% versus the prior year.According to the Scorpio Partnership Global Private Banking Benchmark 2014 the company had 384.1 USD Bn of assets under management, an increase of 13.7% on 2013.