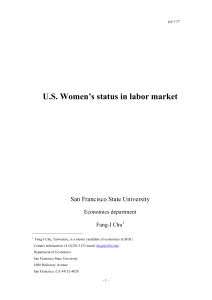 US Women`s status in labor market
... lower-skilled women would also be consistent with more favorable relative net supply shifts for lower-skilled women than high-skilled women. Other factors, in addition to relative supply or demand changes, potentially affect the rate of convergence of the gender gap within skills groups, including t ...
Racial wage gap in the United States
In the United States, despite the efforts of equality proponents, income inequality persists among races. Asian Americans have the highest average income, followed by Whites, typically followed thereafter by Hispanics, Blacks, and finally Native Americans. A variety of explanations for these differences have been proposed—such as differing intelligence, access to education, and experience of discrimination—and the topic is highly controversial.When the Civil Rights Act of 1964 was passed, it became illegal for employers to discriminate based on race; however, income disparities have not flattened out. After the passage of the act, the wage gap for minority groups narrowed, both in absolute difference with white wages and as a percentage of white wages, until the mid-1970s; at this time, progress for many racial minorities slowed, stopped, or reversed. As of 2009, the median weekly wage for African American and Hispanic workers was about 65 percent and 61 percent that of White workers, respectively. Asian workers' median wage was about 101 percent that of white workers. Overall, minority women's wages in comparison to those of white women are better than minority men's wages when compared to those of white men.Knowing the inequalities in the wages of various races is useful for understanding the overall racial inequality in the United States because of the integral role that wages play. Wages from the labor market are the primary source of income for most families in America, and income is a socio-demographic status indicator that is important in understanding the building of wealth.