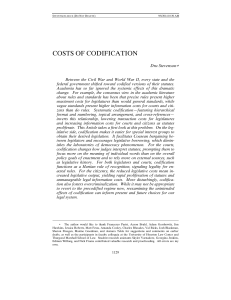 COSTS OF CODIFICATION - University of Illinois Law Review
... validly enacted law from a duly elected representative legislature. Even where courts entertain a challenge to the constitutionality of a statute, codification functions as a preliminary rule of recognition, establishing that the statute in question purports to be valid legislation. Codification cha ...
United States Code
The Code of Laws of the United States of America (variously abbreviated to Code of Laws of the United States, United States Code, U.S. Code, or U.S.C.) is the official compilation and codification of the general and permanent federal statutes of the United States. It contains 52 titles, and a further two titles have been proposed. The main edition is published every six years by the Office of the Law Revision Counsel of the House of Representatives, and cumulative supplements are published annually. The official version of those laws not codified in the United States Code can be found in United States Statutes at Large.