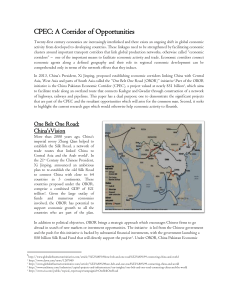 CPEC: A Corridor of Opportunities
... population, large and diverse resources, and untapped potential for trade. The major obstacles faced by Pakistan's economy include persistent industrial losses due to energy crisis, low foreign direct investment (FDI), lack of infrastructure development, losses due to war on terror and low exports a ...
China–Pakistan Economic Corridor
The China–Pakistan Economic Corridor (CPEC) is a ongoing development megaproject which aims to connect Gwadar Port in southwestern Pakistan to China's northwestern autonomous region of Xinjiang, via a network of highways, railways and pipelines to transport oil and gas. The economic corridor is considered central to China–Pakistan relations and will run about 3,000 km from Gwadar to Kashgar. Overall construction costs are estimated at over $46 billion, with the entire project expected to be completed in several years. The Corridor is an extension of China's proposed 21st century Silk Road initiative. According to a Firstpost report, ""this is the biggest overseas investment by China announced yet and the corridor is expected to be operational within three years and will be a strategic gamechanger in the region, which would go a long way in making Pakistan a richer and stronger entity than ever before.""Other than transport infrastructure, the economic corridor will provide Pakistan with telecommunications and energy infrastructure. The project also aims to improve intelligence sharing between the countries. China and Pakistan hope the massive investment plan will transform Pakistan into a regional economic hub as well as further boost the growing ties between Pakistan and China. The Pakistani media and government called the investments a ""game and fate changer"" for the region. According to The Guardian, ""The Chinese are not just offering to build much-needed infrastructure but also make Pakistan a key partner in its grand economic and strategic ambitions."" The project will also open trade routes for Western China and provide China direct access to the resource-rich Middle East region via the Arabian Sea, bypassing longer logistical routes currently through the Strait of Malacca.During the state visit of President of China Xi Jinping to Pakistan in April 2015, he wrote in an open editorial that ""This will be my first trip to Pakistan, but I feel as if I am going to visit the home of my own brother."" During his visit, Islamabad was dotted with slogans and signboards such as ""Pakistan-China friendship is higher than the mountains, deeper than the oceans, sweeter than honey, and stronger than steel."" In August 2015, the two countries signed 20 more agreements worth $1.6 billion to further boost the corridor.