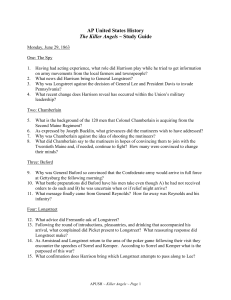 Study Guide - Moore Public Schools
... 55. What part of Meade's message bothered Chamberlain? Why was this the case? 56. Chamberlain recalls an encounter among himself and a minister and a professor, both from the south. In their discussion the professor acknowledges that each of the three feels very strongly that he is personally correc ...
Arthur Lyon Fremantle
General Sir Arthur James Lyon Fremantle, GCMG, CB (November 1835 – 25 September 1901) was a British Army officer and a notable British witness to the Battle of Gettysburg during the American Civil War. Whilst holding the rank of ""Captain and Lieutenant Colonel"" he spent three months (from April 2 until July 16, 1863) in North America, traveling through parts of the Confederate States of America and the Union. Contrary to popular belief, Colonel Fremantle was not an official representative of the United Kingdom; instead, he was something of a tourist.