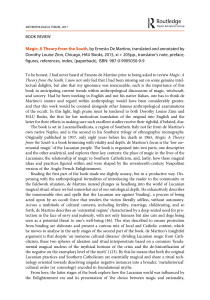 Magic A Theory from the South by Ernesto De Martino
... Theory from the South. I now not only feel that I had been missing out on some genuine intellectual delights, but also that my ignorance was inexcusable, such is the importance of this book in anticipating current trends within anthropological discussions of magic, witchcraft, and sorcery. Had he be ...
Greater and lesser magic
Greater and lesser magic (referred to also as high and low magic or collectively Satanic magic) as practiced in LaVeyan Satanism and outlined in The Satanic Bible is described as ""the change in situations or events in accordance with one's will, which would, using normally accepted methods, be unchangeable"". This definition incorporates two broadly distinguished kinds of Magic: Lesser (manipulative and situational) and Greater (ritual and ceremonial).LaVey wrote extensively on his theories of magic in The Satanic Rituals and The Satanic Witch.